On the occasion of the European Heritage Weekend, the Villa Seurat Foundation for Contemporary Art exhibited outdoors, in the heart of the Villa Seurat, created in the 1920s as an artists' village, three female visual artists:
• Haude Bernabé https://www.haudebernabe.com
• Juliette Frescaline https://frescaline.fr
• Sylvia Goubern http://sgoubern.free.fr
During these European Heritage Days, the Villa Seurat has rediscovered its artists' soul. Indeed, many artists have lived and worked in this preserved and inspiring place, with such a specific architecture.
The Mayor of the XIVth district, Mrs. Carine Petit, honored us with her presence during the inauguration.
More than 800 visitors had the opportunity to discover the strong and singular works of the artists supported by the Foundation, as well as the works of some of the historical artists who have worked and lived in the Villa (Jean Lurçat, Chana Orloff, Robert Couturier, Mario Prassinos and many others).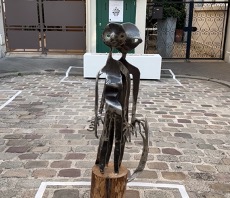 Haude Bernabé, artist supported by the Foundation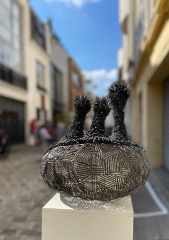 Juliette Frescaline, 2020 Prize laureate on the topic « Nature reasserts itself »

Sylvia Goubern, 2020 Prize laureate on the topic « Nature reasserts itself »